RCD Supply & Installation
RCD supply & installed, Safety Switches installed across homes in
Quality Workmanship at affordable prices.
Single RCD Installed
$190*
Supplied & Installed
Supply & Install
Experienced Electrician, Personal Service
Guaranteed workmanship
Book Today!
* Prices Subject to Confirmation
Discount for 2 or more RCD's Installed
10%
Discount - Monday to Friday
Request your discount at time of booking
Same Location & Same Visit
Discount off full priced items
Book Today!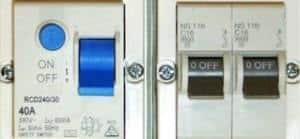 Laws introduced in Western Australia in 2009 require all home sellers (before sale) and landlords to install at least two RCDs, protecting all power points and lighting circuits.
What is a RCD?
RCDs monitor the flow of electricity from the main switchboard and prevent electrocution by cutting the electricity supply if an imbalance in the current is detected. By installing at least two RCDs, the property's circuits can be divided evenly. This ensures some light and power remain if one RCD operates and also minimises faulty operation from appliances which have low-level leakage current.
All properties constructed from the year 2000 should already have two RCDs fitted. If your not sure or need a check of your RCDs you can book an inspection or upgrade by calling 0419 045 152 or using the contact form in the side column.
Book your RCD / safety switch installation with an experienced local electrician. Being a licensed electrician, Alan can install RCD's, giving you peace of mind and blanket safety coverage to your home, protecting you and your family. Contact ARJ Electrical Services for further information about RCD/Safety Switch installation costs.